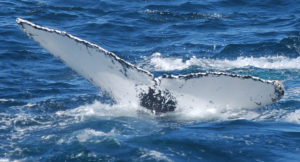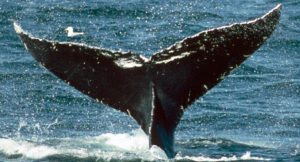 Bandit the Humpback Whale
Bandit can be adopted through Cetacean Society International's Humpback Whale Adoption Program. CSI is the nation's second oldest whale conservation group and is staffed by an all-volunteer group of people dedicated to saving whales around the world.
Bandit has a beautiful mostly white tail but was named for the mask that appears on the top of his fluke.
Bandit is a very popular whale for whale watchers.  He is easily identified from a distance while feeding because he traps fish like no other humpback whale.  Bandit locates a school of fish, slashes his tail through the school three or four times, dives under the school and blows bubbles.  The most exciting thing about this behavior is that Bandit doesn't care how close to a boat he is when he is hungry.  Bandit's Adoption DVD is so entertaining because many times he is right beside the boat when feeding.
Bandit was first seen in 1988 and was a young whale at the time. Bandit was sighted in 2017.  His mother is unknown.  He has no fear of boats and has visited boats with other whales.  This list of friends include Colt, Thorn and Thread.  Bandit has been hit by a small boat propeller as he has prop scars on the left side near his flipper.
Bandit also hit a boat with his flipper and tail.  This unique event was recorded and used on his adoption DVD.
Adopt Bandit today and support Cetacean Society International