Bat the Humpback Whale
Her Story
Bat was named for the black central part of her fluke that is shaped like a bat.  Bat is a large mature female first identified in 1979. Bat was last sighted in 2012.
Bat has been sighted in the Gulf of Maine and off the coast of Puerto Rico.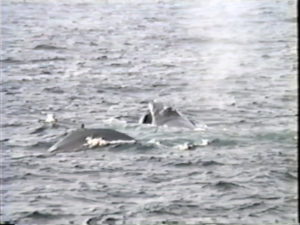 At left is Bat blowing while Jagger dives.  Jagger was named after Mick Jagger the singer.  Jagger's dorsal fin is shaped like a set of lips that remind some researchers of the rock star, Mick Jagger.  Only a few humpback whales have been named after people.  Churchill and Agassiz are two others.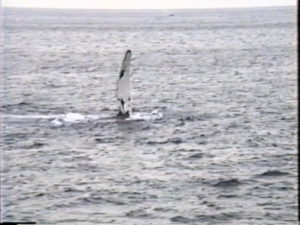 Bat raises her flipper to slap the water, this behavior is called flippering.
Bat
's Family Tree
| | | |
| --- | --- | --- |
| Calves | Year of Birth | Grandcalves |
| Jagger | 1990 | |
| Claddagh | 1997 | |
| Unnamed | 2004 | |
| Unnamed | 2008 | |