Churchill the Humpback Whale
His Story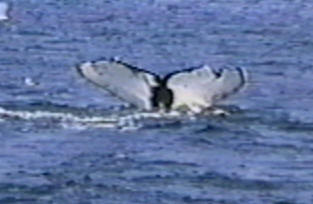 Churchill is one of a very few whales named after a real person.  Jagger and Agassiz are two others.  Look at the photograph of his fluke and on the right side you will see a "V" notch cut out of the top of his fluke.  Winston Churchill, the Prime Minister of England used his fingers to make a "V" for Victory sign during World War II.  This is how Churchill received his name.
The "V" notch is plainly seen as Churchill often raises his fluke high in the air as he prepares to take a deep dive.  His mother and year of birth are unknown.  He was first sighted in 1977 and last seen in 2012.
New:  Churchill on DVD
If you adopted Churchill from any of the Adopt A Whale Programs in the US or UK, you can meet him!
Please enjoy this introduction to Churchill from the Salt & Friends: Humpback Whales With Names DVD
Order Safely on PayPal