Reflection the Humpback Whale
Her Story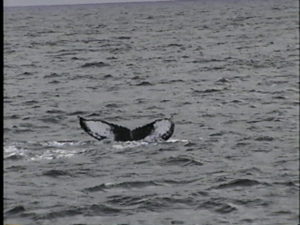 Reflection was named for the symmetrical pattern of her fluke.  Both the left and right side are very similar in shape, color and even the pattern matches.
A relatively new member of the Stellwagen Bank family of humpback whales, she is fast becoming a favorite.  She has three known calves and her first, Buzzard was a delight to see in very active displays in 2000.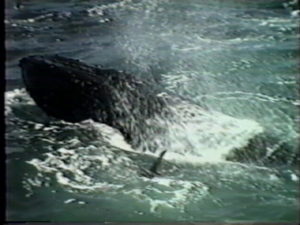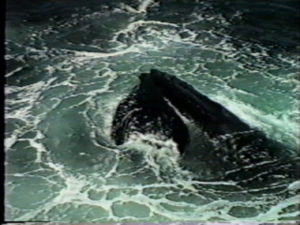 Humpback whales are unique animals and even common behaviors have become signature patterns for some whales.
Reflection has developed a feeding style that just a few humpback whales have mastered.
She feeds with a chin breach into the school of fish.  She lifts her chin and head above the fish, dives and then a flick of the fluke as well.  This may stun the fish until she swims under them with her mouth wide open!
You can see that her mouth and throat is bulging with water and fish at left.
Reflection's History
| | |
| --- | --- |
| Mother:               Unknown | First Sighting:   1995 |
| Year Of Birth:   Unknown | Last Seen:           2017 |
Reflection's Family Tree
| | | |
| --- | --- | --- |
| Calves | Year of Birth | Grandcalves |
| Buzzard | 2000 | |
| Unnamed | 2007 | None |
| Unnamed | 2009 | Calf in 2017 too |
Pictures of Reflection (from her DVD) (Coming soon)
Reflection is very dramatic when feeding in large bubble clouds.
New:  Reflection on DVD reg $25.00
On sale now $18.99
If you adopted Reflection from any of the Adopt A Whale Programs in the US or UK, you can meet her!
You will be delighted to spend 20 minutes with Reflection showing her feeding style by blowing bubbles, coming up with a loud explosive blow, and kicks the water with her tail.  She then comes up with fully-distended pleats and throws her tail up for a deep dive.  Reflection is seen feeding with Abrasion and Rocker.  She lunges in a cloud of fish and Rocker spyhops nearby.
A sample clip from the Reflection DVD
Order Safely on PayPal