Regulus the Humpback Whale
His Story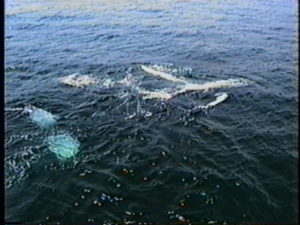 Regulus has been nicknamed Reggie by the naturalists on Stellwagen Bank.  Reggie is one of the few humpbacks that can be identified at a distance every time he is flipper-slapping.
How do you think that is possible?  We have seen Reggie many times and he is quite the character!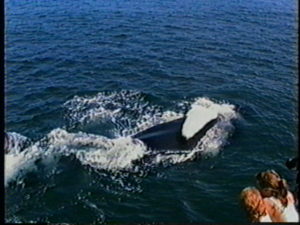 We know it is Reggie because he hits himself with his flipper.
All the other humpback whales raise their flippers and slap the water.  For some unknown reason, Reggie has decided that hitting his side with his flipper, is a better way to go.  We have seen Reggie do this when the boat is half-a-mile from him and on several occasions, Reggie has hit himself while coming towards the boat and then diving under and breaching on the other side.  Hard to believe?  It is on Salt & Friends.
Salt & Friends: Humpback Whales With Names
The story of Reggie is three minutes in length.  It shows you the behavior that has made Reggie a favorite of whale watchers of every age.  You meet Reggie's mother Spoon and see Reggie playing a game with his flippers. Reggie is seen hitting his side with a flipper estimated to weigh more than 1000 pounds.  It makes a loud sound and probably stings a little.
Reggie also stands on his head with his tail high in the air.   At one point, Reggie swims under the boat, breaches close on the other side and then drifts on his back while flippering.  You can clearly see Reggie from the tip of his jaw to the end of his tail.
Regulus' History
| | |
| --- | --- |
| Mother:               Spoon | First Sighting:   1983 |
| Year Of Birth:   1983 | Last Seen:           2007 |
Coming Soon
New:  Regulus on DVD reg $25.00
On sale now $18.99
If you adopted Regulus from any of the Adopt A Whale Programs in the US or UK, you can meet him!
You will be delighted to spend 18 minutes of excellent footage of Reggie.  You see him hitting his side while flippering and breaching right beside the boat.  Reggie also shows his tail pattern while lobtailing.