Salt the Humpback Whale
Last sighting in 2017
Salt's Fantastic Story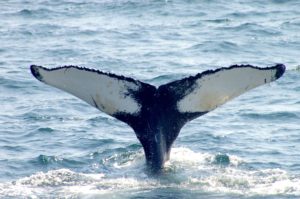 Salt was sighted with a new calf in June 2016! The calf was named Sriracha within a few days of its being sighted.  Several of Salt's children and grandchildren have been sighted with new calves also bringing the number of direct descendants to 31.
Salt became a Great-Grandmother in 2014 as well as bringing her 13th calf back to the Gulf of Maine!  She now has 14 Grand-calves.
Salt is a female humpback whale who spends spring, summer and fall feeding in the waters of Stellwagen Bank within miles of Cape Cod shores.

In December she migrates to the warm Caribbean waters for the breeding and calving grounds. If she becomes pregnant there, she will gain 24,000 pounds in weight over the next twelve months to provide 50 gallons of milk each day to her new calf!

But there is much more to Salt's story.

Salt is the Grand Dame of Stellwagen Bank. She was the first whale to be given a name. She is one of the first known grandmothers is now one of seven known great-grandmothers.  Salt has been sighted every year since 1975 and is considered the most sighted and most loved whale in the world.  She has been the subject of several DVD documentaries including Salt & Friends: Humpback Whales With Names.

Salt has always been a loving and caring mother. Each new calf is allowed some time to visit the boats during the spring and summer months. The calves get excited and perform some amazing and graceful behaviors, sometimes described as an underwater ballet.

Salt's DVD (her Adoption Kit includes this DVD – adopt her through Cetacean Society International) demonstrates her close bond to her offspring and introduces her most curious calves. At first they stay close to Salt but they soon become bolder, swim closer to the boat while blowing loudly.

The highlight of the 22 minute DVD and rarest view of all is Salt nursing her ninth calf named Wasabi!
How she was named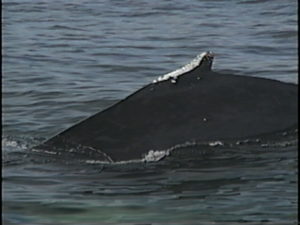 Salt has a white dorsal fin and decades ago, a whale watch Capt named Aaron Avellar named the first two humpback whales, Salt and Pepper.  He had the honor until his death, to name each and every one of Salt's calves.  Salt's family tree shows that she kept Aaron busy.
Salt's Family Tree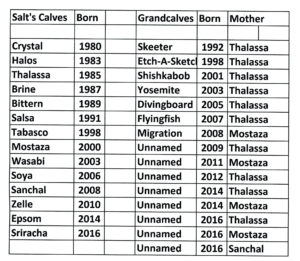 Salt also has two great-grandcalves thanks to her daughter Etch-A-Sketch.  Unnamed calves born in 2014 and 2016.
What makes her unique?

Salt seems to have an interest in introducing her new calves to people on boats.  She doesn't spend much time near boats in the years between calves, but when she is nursing them, she makes plenty of trips over to slow moving boats for a visit.  This often is a whale watchers dream trip.Watch her do her thing
How can I see more of Salt on DVD?
Salt & Friends: Humpback Whales With Names
She is the star of this Telly-Award winning documentary and the best nature program in the world.
It opens with the story of how Salt was named and introduces you to many of her immediate family members including calves and grandcalves.
The story of Salt and her family is ten minutes in length.  You will meet eight of her calves and Thalassa's calf Skeeter; Salt's first grandcalf.  Fourteen other whale families round out the program.
(Salt & Friends is 60 minutes in length with 58 minutes of whale footage.)
Price: DVD – $18.99
Pictures of Salt (from her DVD)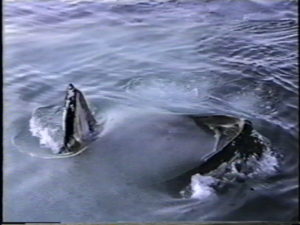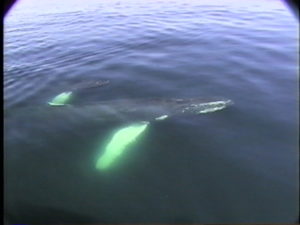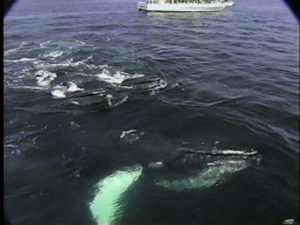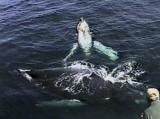 Adopting Salt is one way you can help protect her.
Adopt Salt Today and Support CSI
Enjoy this sample clip from the Salt DVD included with your adoption
Your $40 adoption fee supports the programs of Cetacean Society International
Your Whale Adoption Kit includes:
DVD of Salt and several calves (30 mins)

An adoption certificate

A booklet with facts and family tree
Adopt Salt safely and securely using this Paypal Button
Salt's DVD without adopting $18.99
This is the same DVD as included with the above adoption kit.
Spend 22 incredible minutes with the most popular whale in the world.  Amazing clips of Salt and her calf named Brine.  Salt is at the surface and Brine swims around and under the boat.  You will see Salt upside down under the boat and comes up tail first right towards you!  One of the most beautiful clips in our entire archive is one where you'll see Salt as she nurses Wasabi right beside the boat.
Salt is the most popular adoption whale too!  The following adopt a whale programs include Salt in their selections:
Cetacean Society International, Whale and Dolphin Conservation, Whale Center of New England, Ocean Alliance and NECWA.