Seal the Humpback Whale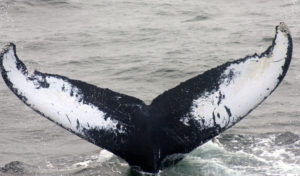 Seal can be adopted through Cetacean Society International's Humpback Whale Adoption Program. CSI is the nation's second oldest whale conservation group and is staffed by an all-volunteer group of people dedicated to saving whales around the world.
Seal is a member of a large well-known humpback whale family.  His mother, Mars was named for the Roman God of War due to the scars and cuts to her fluke or tail.  It looks as if it had battle damage.
Mars was first sighted and photographed in 1979.  The names of her calves are Felis, Seal, Excaliber, Nile, Mesopotamia and Putter.  This is such a great whale family that CSI has added Mars, Nile and Seal to its Humpback Whale Adoption Program.
Seal's fluke is also slightly damaged at two places.  A visible chunk is missing.  His name is based on the left side of the fluke that slightly resembles a seal pup sitting on land with a flipper up in the air.  It is remarkable that there is also a mark on the lower right side that looks like the head of a harp seal!
Adopt Seal today – a clip from the adoption DVD