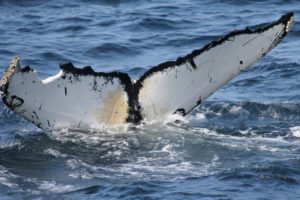 Thread the Humpback Whale
Thread can be adopted through Cetacean Society International's Humpback Whale Adoption Program. CSI is the nation's second oldest whale conservation group and is staffed by an all-volunteer group of people dedicated to saving whales around the world.
Thread was born to Fringe in 1984.  This is a well-known humpback family.  His brothers and sisters are Tassel, Sirius and Tornado.  Fringe had two other calves that were never given names.  Fringe has a mostly white tail with a black fringe around it.  Therefore the reference to her name as well as Thread and Tassel.  Thread was sighted in 2014.
Thread has a lot of white on his tail, chin and belly.  This is wonderful as Thread spends time close to the boats doing what can only be described as underwater ballet.  His adoption DVD is fantastic because of his closeness to boats.  You can see him spinning and turning underwater as well as amazing waving of his tail high in the air just a few feet away.
Adopt Thread today and support Cetacean Society International