Pepper the Humpback Whale
Her Story
Pepper is a female humpback whale who spends spring, summer and fall feeding in the waters of Stellwagen Bank within miles of Cape Cod shores.

In December she migrates to the warm Caribbean waters for the breeding and calving grounds. If she becomes pregnant there, she will gain 24,000 pounds in weight over the next twelve months to provide 50 gallons of milk each day to her new calf!

But there is much more to Pepper's story.

Pepper was named just seconds after Salt was given her name.  Salt and Pepper were seen together during the first days of whale watching on the East Coast in 1976.  Salt was named for the white marks on her dorsal fin and Pepper was named for her all black dorsal fin.
Pepper is one of the few whales believed to be left-handed or as we say, left-flippered.
She must also be a very good mother because two of her calves (Zenith and Habenero) stayed by her side for two years, not one year like most calves.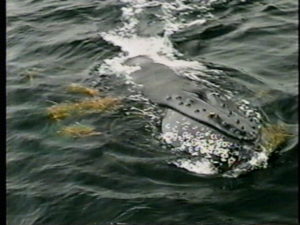 Zenith was Pepper's calf born in 1996.  Just two years later, Zenith was hit by a boat leaving a large wound on his back.  The wound healed and sometime later  Zenith was sighted playing with seaweed.
Pepper was seen entangled in a large fishing net in July of 2009. Those people who love her feared the worst for nearly a year.  She was sighted on May 13, 2010 swimming free of the nets.
How can I see more of Pepper on DVD?
Salt & Friends: Humpback Whales With Names
Pepper is a co-star on  Salt & Friends, (60 minutes) a Telly Award winner and said to be the best nature program in the world. Salt & Friends opens with the story of how Salt was named and introduces Pepper, many members of Pepper's family as well as thirteen other popular and often sighted humpback whales.
(Salt & Friends is 60 minutes in length with 58 minutes of whale footage.)
Pepper's History
| | |
| --- | --- |
| Mother:               Unknown | First Sighting:   1976 |
| Year Of Birth:   Unknown | Last Seen:           2014 |
Pepper's Family Tree
| | | |
| --- | --- | --- |
| Calves | Year of Birth | Grandcalves |
| Aurora | 1982 | |
| Siete | 1986 | |
| Tadpole | 1989 | |
| Paprika | 1992 | |
| Zenith | 1996 | |
| Bishop | 1998 | |
| Habenero | 2000 | Habenero was sighted with a calf in 2008 & 2012 |
| Unnamed | 2003 | |
| Striation | 2007 | |
| Unnamed | 2011 | |
Pictures of Pepper (from her DVD)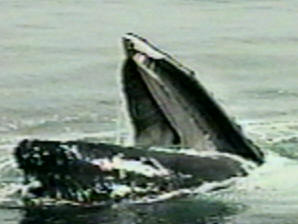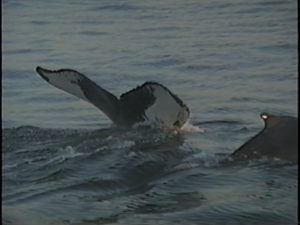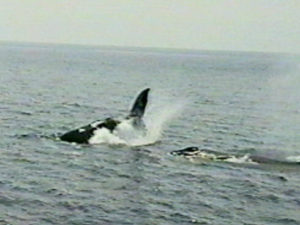 New:  Pepper on DVD reg $25.00
On sale now $18.99
If you adopted Pepper from any of the Adopt A Whale Programs in the US or UK, you can meet her!
You will be delighted watching 20 minutes of exciting and close footage of the second whale to be given a name.
Pepper is well known for her tremendous open mouth feeding with her baleen plates visible and our feeding scenes will thrill any fan of Pepper.  You will see her nursing Tadpole, born in 1989.  You will also meet her calves Zenith and Habenero.  Zenith is playing in seaweed.  Habenero is playing near the bow while Pepper is feeding.  We always save the best for last and Pepper gets active while flippering and breaching out of the water.
A sample clip from the Pepper DVD
Order Safely on PayPal
Pepper is also a co-star on Salt & Friends DVD
Listen to Pepper's Story
This from the chapter on Pepper as seen on
 Salt & Friends: Humpback Whales With Names
Price: DVD – $18.99