Colt the Humpback Whale
His Story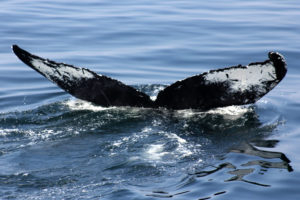 Born in 1981, this friendly humpback's interest in people is hardly different from his days as a young calf swimming quickly to the side of any boat that was lucky enough to stop near him.  His reputation has been built around decades of making a beeline for whale watchers and surprising them with his entertaining personality.  His behavior around the boats has time and time again proven to be curious, outrageous and downright hilarious. Colt was sighted in 2017.
This is why we call him the "friendliest whale in the world"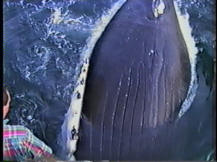 Don't take our word for it. Colt's DVD was produced to share the most unbelievable interactions between whales and people. Colt does it better than any other whale in the world.  You will be amazed as Colt looks for people to splash, raises his flipper and sends a wall of water towards the delighted passengers.  Colt dives under the boat, comes up belly first and sometimes his head is on one side and his tail on the other.

When Colt visits with other whales, he must always be closer to the boat than his other humpback friends.  When they get closer, he squeezes in between them and the side of the boat, easily pushing them out of the way.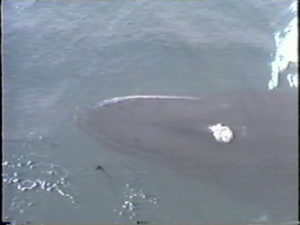 The highlight of the Adoption DVD is when he starts to sing right next to the boat!  Colt was the first whale ever recorded singing on the feeding grounds.  Marine biologists didn't think that whales sang on the northern feeding grounds, but Colt always has a surprise ready to spring on you.
Adopt Colt Today
Both Colt and Salt are the whales you can adopt and support Cetacean Society International's Whale Adoption Program.  By doing so, your funds help our mission of protecting all whales around the world.  So who will you adopt? Salt or Colt? Why not both? Read Salt's story.
How can I see more of Colt and his humpback whale friends on DVD?
Salt & Friends: Humpback Whales With Names
Salt is the star of this Telly-Award winning documentary and the best nature program in the world.
However, Colt shows more interest in people than the other 14 main whales that are introduced.
(Salt & Friends is 60 minutes in length with 58 minutes of whale footage.)
Price: DVD – $18.99
Colt is a very popular adoption whale too!  The following adopt a whale programs include Colt in their selections:
Whale and Dolphin Conservation, Whale Center of New England and Cetacean Society International.
Colt's History
| | |
| --- | --- |
| Mother:               Equus | First Sighting:   1981 |
| Year Of Birth:   1981 | Last Seen:           2013 |
Colt's Family Tree
| | | |
| --- | --- | --- |
| Siblings | Year of Birth | Additional Information |
| Tusk | 1979 | male |
| Merlin | 1984 | |
| Channel | 1986 | |
| Stump | 1988 | male |
| RK | 1990 | female |
Pictures of Colt (from his DVD)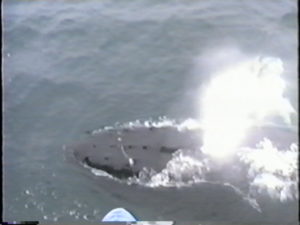 Colt blows next to the boat.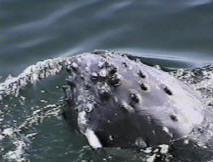 Colt sticks his head out of the water.  The bumps you see are tubricules and each has a single hair.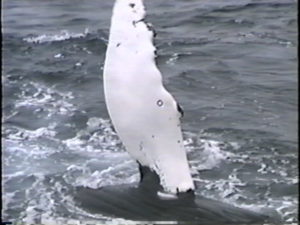 Adopt Colt Today and Support CSI
Enjoy this sample clip from the Colt DVD included with your adoption
Colt's DVD without adopting $18.99
You will be delighted to spend 27 minutes watching Colt under and around the boat.  You see his big floppy dorsal fin that makes it very easy to identify Colt when he is close to other whales.  He is seen directly under passengers at the rails, his belly pleats above water and distinctive tail pattern visible.  In one segment, Colt pushes another humpback away from the boat and is also seen with a frequent friend, Bandit.  Colt is the only humpback whale we ever recorded singing beside the boat and you will see and hear him on this DVD.